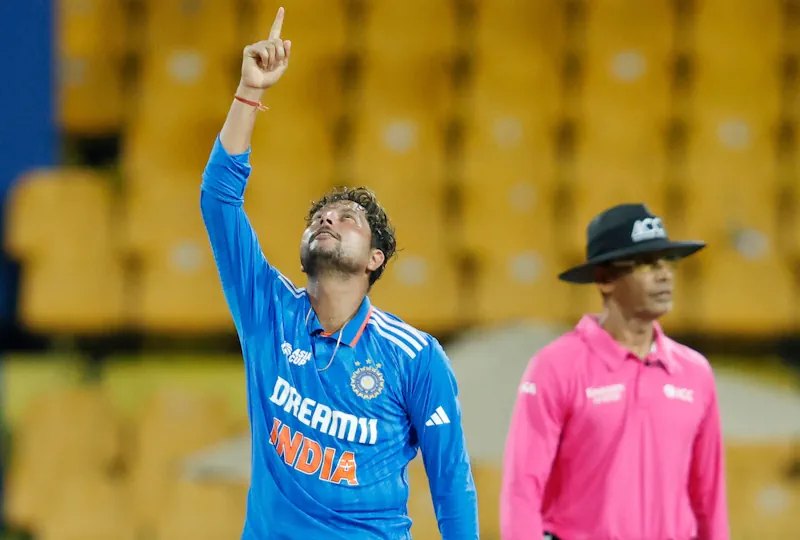 India's star spinner, Kuldeep Yadav, who played a pivotal role in dismantling Pakistan's batting lineup during their Super Four clash in the Asia Cup, expressed his immense pride in his remarkable five-wicket haul performance against the arch-rivals Pakistan.
Kuldeep's masterful display with the ball proved to be the turning point as he picked up a well-deserved five-wicket haul, helping Team India secure a resounding 228-run victory over Pakistan.
"If you take 5 wickets against a big team, you always remember that. Whenever I stop playing cricket, I will always remember that I had taken 5 wickets against Pakistan. This is a big thing because if you perform well against sides who play good spin, it motivates you a lot," Kuldeep shared during a post-match press conference.
The eagerly-awaited Super Four match between India and Pakistan at the Asia Cup had to be extended to Monday after rain disrupted the majority of play on Sunday. Kuldeep acknowledged the challenges posed by the weather, stating, "It becomes a bit difficult to play when the game gets disrupted due to rain. Players always have to be ready to play if the conditions allow. We were all excited to play and complete the game. I was just thinking about bowling at a good length, focusing on rhythm, and being a bit more aggressive as well."
Kuldeep also touched upon his personal journey, highlighting his determination to overcome obstacles. "Since the injury, the run-up has become straight and the rhythm has become aggressive. After surgery, everything was very frustrating for me because I was out for 5 months. I am really happy with my performance. One and a half years have been amazing; I was not thinking about the playing XI. Just enjoying my bowling. I have been working on length because it matters a lot," the spinner revealed.
In the thrilling match against Pakistan, fiery centuries from Virat Kohli and KL Rahul, followed by Kuldeep Yadav's magical five-wicket haul, powered India to a commanding 228-run victory. With this monumental win, India clinched the top spot in the Asia Cup 2023 Super 4s table.
Captain Rohit Sharma and Shubman Gill's impressive half-centuries laid the foundation for India, while the unbeaten 233-run partnership between Kohli and Rahul added the finishing touch to India's innings. Kohli's unbeaten 122 and Rahul's explosive 111 off 106 balls left a lasting mark on the match.