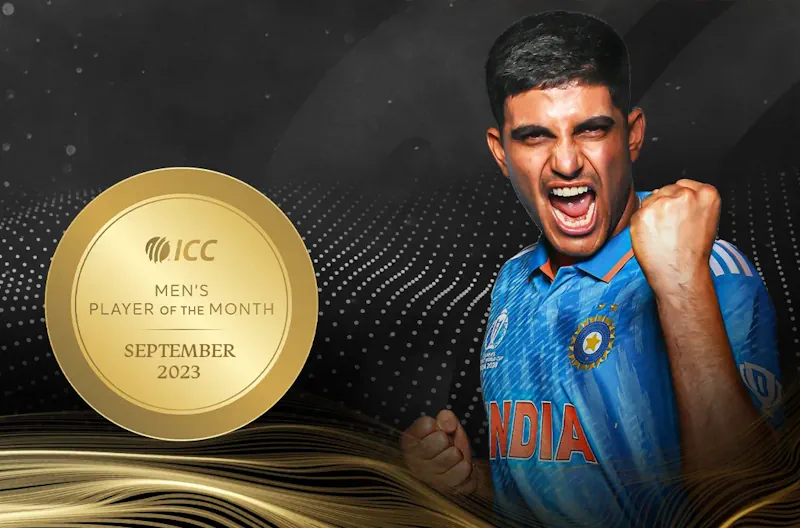 Indian cricketer Shubman Gill has been awarded the ICC Men's Player of the Month for September 2023 by the International Cricket Council (ICC). Gill's outstanding performance in ODI cricket during the month earned him this prestigious recognition, surpassing competition from fast bowler Mohammed Siraj and England's opener Dawid Malan.
Gill's remarkable achievement can be attributed to his impressive batting prowess, which saw him amass a total of 480 runs in the ODI format at an extraordinary average of 80 in September. His consistent and exceptional contributions with the bat caught the attention of cricket enthusiasts worldwide.
The 24-year-old right-hand batter's stellar run began with the Asia Cup, where he played a crucial role, scoring 302 runs at an impressive average of 75.5. Notably, in the final against Sri Lanka, Gill remained unbeaten with a score of 27*, leading India to a resounding 10-wicket victory.
Continuing his excellent form, Gill showcased his mettle against Australia in the home ODI series before the Cricket World Cup. He accumulated 178 runs in two innings against the formidable Australian side. His shining moment came when he smashed a century, scoring 104 runs in the second ODI. This century followed another remarkable ton against Bangladesh (121) during the Asia Cup, giving Gill two centuries in September.
In addition to his centuries, Shubman Gill also recorded three half-centuries in the previous month, displaying remarkable consistency with the bat. Impressively, he was dismissed for less than fifty on only two occasions out of eight innings.
Gill's exceptional performances in ODIs have earned him the second spot in the ICC Men's ODI Batting Rankings, a testament to his remarkable consistency and skill. With a stellar record of 1917 runs in 35 ODIs at an average of 66.1 and a striking strike rate of 102.84, Gill is regarded as one of the rising stars of Indian cricket.
Unfortunately, Gill missed India's opening matches in the Cricket World Cup due to illness, but he remains a pivotal figure in India's quest to secure the coveted trophy for the first time since 2011.
Expressing his joy and gratitude upon receiving the ICC Player of the Month award for September, Shubman Gill stated, "I am delighted to have won the ICC Player of the Month award for the month of September. It's a great privilege to represent India at the international level and contribute towards the team's cause. This award will further motivate me to continue to seek excellence and make the country proud."
Gill extended his heartfelt appreciation to his teammates, family, and coaches for their unwavering support, acknowledging that this achievement would not have been possible without their guidance and encouragement.