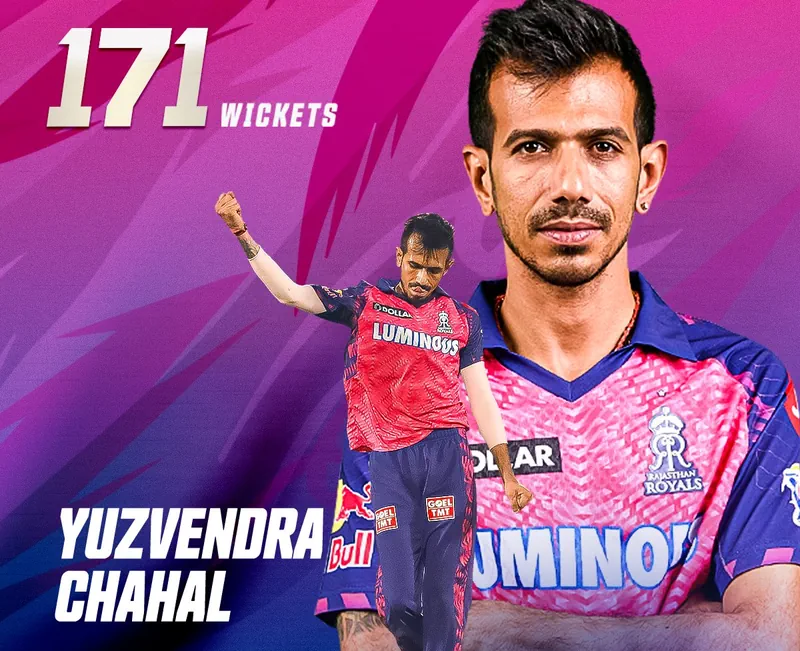 Rajasthan Royals (RR) spinner Yuzvendra Chahal has reached a significant milestone today surpassing legendary Sri Lankan pacer Lasith Malinga to become the second-highest wicket-taker in the history of the Indian Premier League (IPL). Chahal achieved this feat during Rajasthan Royals' clash against Punjab Kings in Guwahati.
Throughout his IPL career, Chahal has represented Mumbai Indians (MI), Royal Challengers Bangalore (RCB), and now Rajasthan Royals. In 133 matches, he has claimed 171 wickets, boasting an average of 21.58 and an economy rate of 7.62. His best bowling performance in the league has been 5/40.
Lasith Malinga, who played for Mumbai Indians from 2009-19, held the second position prior to Chahal's achievement. Malinga took 170 wickets in 122 matches, with an average of 19.79 and an economy rate of 7.14. His most impressive bowling figures stand at 5/13.
Dwayne Bravo, the West Indies all-rounder and Chennai Super Kings stalwart, remains the leading wicket-taker in IPL history. In 161 matches, Bravo has accumulated 183 wickets, averaging 23.82 with an economy rate of 8.38. His best bowling figures in the league are 4/22. Trailing behind Bravo, Chahal, and Malinga are Amit Mishra with 166 wickets and Ravichandran Ashwin with 159 wickets.
Some Exceptional performances by Yuzvendra Chahal in IPL History
Yuzvendra Chahal has been a consistent performer in the Indian Premier League (IPL) throughout his career. Here are the top three match-changing performances by Yuzvendra Chahal:
Royal Challengers Bangalore vs Gujarat Lions, IPL 2016:
In the 2016 IPL Qualifier match held on May 24, Chahal delivered a match-winning performance by taking 3 wickets for just 32 runs in his 4 overs. His crucial wickets included dangerous batsmen like Dwayne Smith, Aaron Finch, and Dinesh Karthik. Chahal's spell helped restrict the Gujarat Lions to 158, and RCB won the match by 4 wickets to reach the finals.
Royal Challengers Bangalore vs Mumbai Indians, IPL 2020:
On September 28, 2020, Chahal put on an exceptional display of spin bowling against the Mumbai Indians. He picked up 3 wickets for 18 runs in his 4 overs, including the crucial wickets of Suryakumar Yadav and Ishan Kishan. Chahal's spell played a significant role in restricting Mumbai Indians, and RCB eventually won the match in a Super Over.
Royal Challengers Bangalore vs Kolkata Knight Riders, IPL 2017:
In a match played on May 7, 2017, Chahal played a crucial role in RCB's victory over KKR. He picked up 3 wickets for 16 runs in his 4 overs, dismissing key batsmen like Sunil Narine, Gautam Gambhir, and Manish Pandey. His spell played a vital role in restricting KKR to a total of 131, and RCB won the match by 9 wickets.