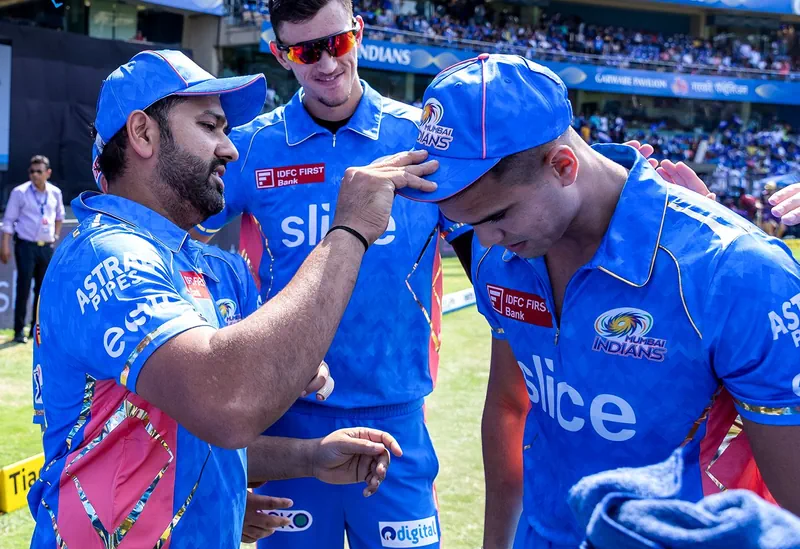 Arjun Tendulkar, son of legendary cricketer Sachin Tendulkar, made his Indian Premier League (IPL) debut for Mumbai Indians (MI) against Kolkata Knight Riders (KKR) on Sunday. This marks the first time that a father-son duo has played in the IPL, with Sachin having debuted for MI in 2008 and played until 2013.
Arjun started his cricket career as a fast bowler in Mumbai but later moved to Goa for better opportunities. He represented Mumbai in only two T20 matches before the shift. Mumbai Indians bought Arjun for 30 lakhs in the 2022 IPL auction and retained him in the mini-auction of 2023.
Arjun's impressive performance in the 2022 Syed Mushtaq Ali Trophy and the Vijay Hazare Trophy earned him a spot in the MI team. He has 12 wickets in T20 at an average of 16.50 and an economy rate of 6.60. In first-class matches, he has scored 223 runs at an average of 24.77 with a century and taken 12 wickets at an average of 45.58.
Sachin Tendulkar expressed his emotions on his son's debut in a tweet, calling it "the start of a beautiful journey." Other former Indian cricketers such as Zaheer Khan, Yuvraj Singh, and Suresh Raina also congratulated Arjun on his debut.
Arjun Tendulkar Cricket Career before IPL
Arjun Tendulkar's career in Goa began on a high note during the 2022 Syed Mushtaq Ali Trophy, where he claimed 10 wickets in seven matches and maintained an impressive economy rate of 5.69. His strong performance continued in the Vijay Hazare Trophy, taking seven wickets in eight matches with an economy rate of 4.98, making him Goa's top wicket-taker in the tournament.
In his nine T20 appearances, Arjun has scored 20 runs across five innings, with a personal best of 15 runs. He has also taken 12 wickets, boasting an average of 16.50 and an economy rate of 6.60. His best T20 bowling figures stand at 4/10.
In the realm of first-class cricket, Arjun has participated in seven matches, accumulating 223 runs in nine innings with an average of 24.77, including a century. Additionally, he has claimed 12 wickets with an average of 45.58 and an economy rate of 3.42, with his best bowling figures in an innings being 3/104.
As for List-A matches, Arjun has played in seven, scoring 25 runs in three innings with a top score of 14*. He has also taken eight wickets in this format, averaging 32.37 with an economy rate of 4.98. His best bowling figures for List-A matches are 2/32.
Lastly, Arjun left a lasting impression with his century during his Ranji Trophy debut against Rajasthan in December of the previous year.
Arjun's Debut Match Performance in IPL
In his debut match, Arjun bowled two overs and conceded 17 runs without taking a wicket. Mumbai Indians emerged victorious with a five-wicket win and will face Sunrisers Hyderabad on Tuesday.