ENG vs WI | Schedule | Live Score | Squads | News | Stats

Full coverage of ENG vs WI 2020 series (England vs West Indies) with live scores, latest news, videos, schedule, fixtures, results and ball by ball commentary. The West Indies tour of England in 2020 includes three Test Matches this year.
Quick Navigation
Add a header to begin generating the table of contents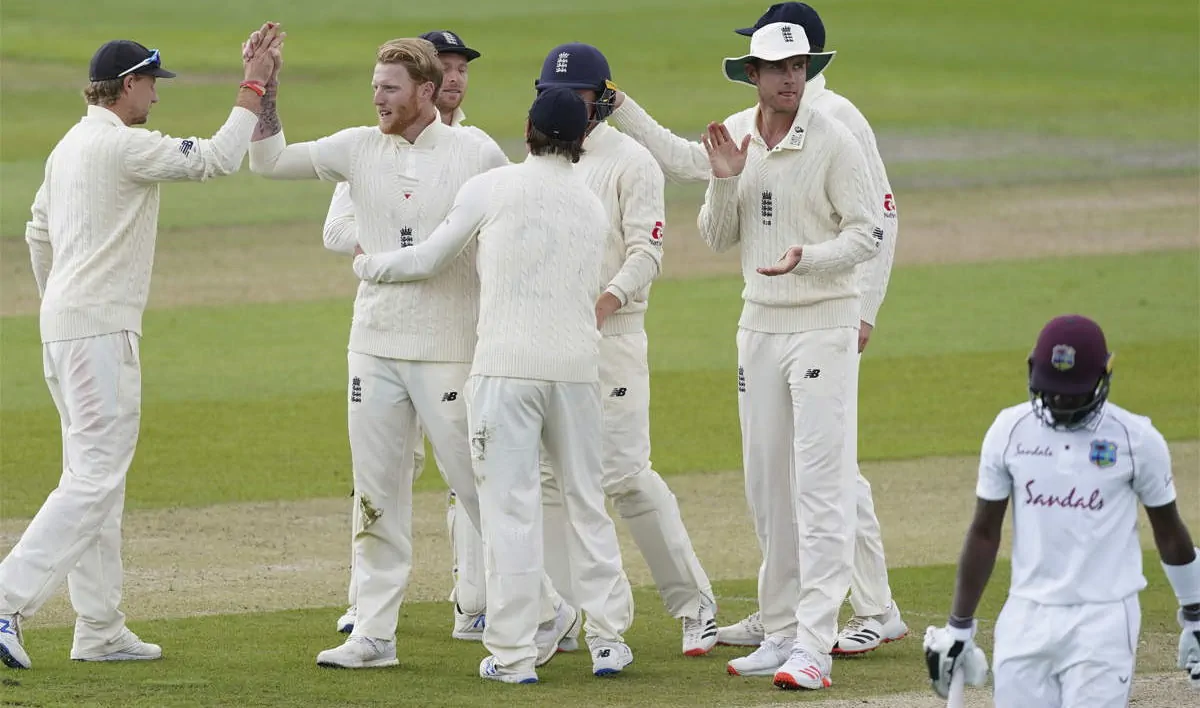 ENG vs WI – The Upcoming Matches (July 2020)
Match, Date, Timing & Venue
1st Test | Wed July 8 – 12 2020
England vs West Indies
11:00 local | 10:00 GMT | 06:00 EDT
The Rose Bowl, Southampton
2nd Test | Thu July 16 – 20 2020
England vs West Indies
11:00 local | 10:00 GMT | 06:00 EDT
The Rose Bowl, Southampton
3rd Test | Fri July 24 – 28 2020
England vs West Indies
11:00 local | 10:00 GMT | 06:00 EDT
The Rose Bowl, Southampton

England vs West Indies
View Full Fixtures

ENG vs WI Series – 2020-21 Coverage
The West Indies tour of Engalnd has been confirmed in July 2020 as part of the ICC FTP fixtures. The Test series between West Indies and England this summer holds a special place in sports history. With a recent lock-down and thereafter, the resumption marks the end of a 4-month or so no-cricket period in the UK.
West Indies tour of England comes under tight precautionary measures amid pandemic that has seen millions of cases worldwide so far. Players must adhere to hygiene regime as per set rules set out by the ICC. A ban on the use of saliva to shine the ball and Covid substitutes in Test cricket were among the interim changes to playing regulations confirmed by the International Cricket Council (ICC) on Tuesday.
The changes were implemented in order to mitigate the "risks posed by the COVID-19 virus and protect the safety of players and match officials when cricket resumes". The ICC also introduced the system of issuing two warnings per innings to players found violating the saliva ban. Any further violation will result in a 5-run penalty.
Great efforts have being made to hold the England vs West Indies series alive. While we have seen major sporting events either delayed/postponed or cancelled altogether due to COVID-19 pandemic around the world. Read about special instructions and measures taken by both respective boards to make it possible.
CricketSchedule offers schedule, live scores, latest news, squads and players info of the England-West Indies (ENG vs WI) series. Stay tuned for more updates.
ENG vs WI Series FAQ
When does the ENG vs WI series begin?
Both England and West Indies will kick-off the series with the first Test match in Southampton on Wednesday July 8, 2020. A total of three Test matches will be played during ENG vs WI series.
How many matches will both teams play?
Both West Indies and England will play a total of 3 Test matches starting from July 8 till July 28, 2020. There are no warm-up matches during the WI tour of England.
How long is the West Indies tour of England?
The West Indies tour of England in 2020-21 consists of more than 21 days that are in addition to the required quarantine period if decided by ECB and West Indies Cricket board.
What are the series Venues for ENG vs WI?
Due to COVID-19, matches are restricted to only The Rose Bowl in Southampton in 2020-21 at this time.
How can I set free reminder for ENG vs WI Match Timings?
You can set reminder for ENG vs WI matches through our match calendar which sets match timings according to your time zone. Users need to add match timing through Google Calendar (Android/Windows etc) and iCal Calendar in Apple devices.
Learn more about England vs West Indies Series:
Team Information on Team Wikipedia
Learn more about England / West Indies Teams, see blog
Follow your team fixtures on Cricketschedule.com
Follow ENG vs WI updates on Twitter