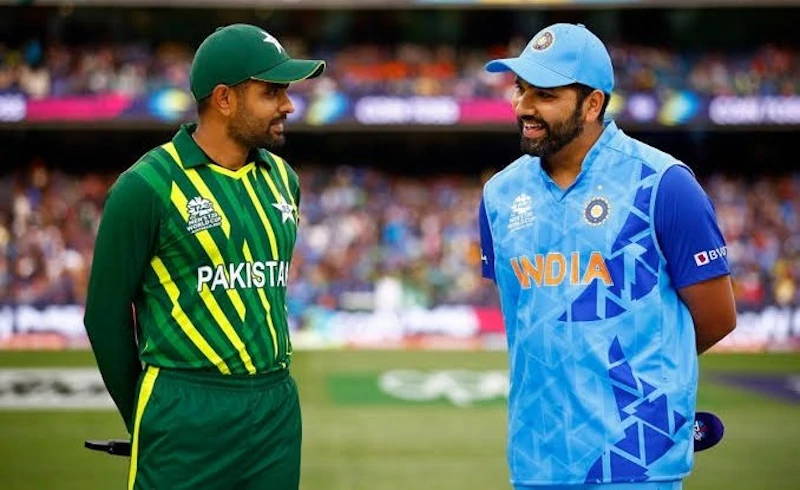 In what promises to be a nail-biting encounter, the highly anticipated India vs Pakistan match in the upcoming ICC ODI World Cup 2023 is scheduled to take place in Ahmedabad on October 15. The draft schedule of the tournament, shared by the Board of Control for Cricket in India (BCCI) with the International Cricket Council (ICC), has revealed the clash of the arch-rivals at the iconic venue.
According to the report by ESPNcricinfo, India will commence their campaign against Australia in Chennai. The tournament opener is set to feature the 2019 World Cup finalists, England and New Zealand, battling it out on October 5. The draft schedule has been sent to the participating countries for feedback, and a finalized schedule is expected to be released early next week.
While the draft schedule does not specify the venues for the semi-finals, which are likely to be held on November 15 and 16, it does indicate that the final will be hosted in Ahmedabad on November 19. India is scheduled to play their league matches across nine venues, adding to the excitement and variety of the tournament.
India's journey in the tournament will begin with a match against Australia on October 8, followed by a face-off with Afghanistan in Delhi on October 11. The spotlight will then shift to the India-Pakistan clash in Ahmedabad on October 15, expected to be a match filled with intense rivalry and fanfare. The fourth game for India will be against New Zealand in Dharamshala on October 22, followed by a crucial encounter with England on October 29, as reported in the draft schedule.
As the draft schedule stands, the final two teams to compete for the World Cup title will be decided based on the Qualifier tournament scheduled to be held in Zimbabwe from June 18 to July 9. The tournament will witness teams battling it out for a chance to secure their place in the highly anticipated World Cup.
The draft schedule also mentions that India's seventh and ninth opponents are yet to be determined. These matches are slated for November 2 in Delhi and November 11 in Bengaluru, respectively. India is already scheduled to face South Africa on November 5. The report further outlines Pakistan's fixtures, stating that their matches will be held across five venues during the league phase of the tournament.
Cricket enthusiasts from all around the world are eagerly awaiting the clash between India and Pakistan, known for its intense rivalry and historical significance. With the match set to unfold in Ahmedabad on October 15, the anticipation and excitement are reaching fever pitch, as fans eagerly count down the days until this epic encounter.