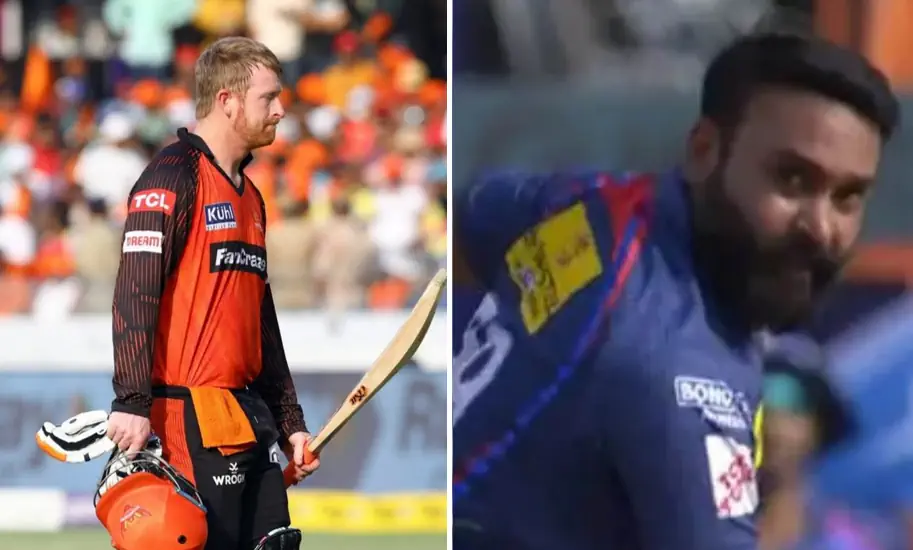 Sunrisers Hyderabad (SRH) wicketkeeping batter Heinrich Klaasen was fined 10 percent of his match fee during the IPL 2023's 58th match on Saturday. He was fined for violating the IPL's code of conduct by publicly criticizing umpiring decision during the match the match against Lucknow Super Giants held at the Rajiv Gandhi International Stadium, Hyderabad.
As per an official IPL statement, "Heinrich Klaasen of Sunrisers Hyderabad has been fined 10 percent of his match fee for breaching the IPL Code of Conduct during Match 58 of the TATA Indian Premier League 2023." The statement further clarified that Klaasen admitted to the Level 1 Offence under Article 2.7, which stipulates against public criticism or inappropriate comments.
The contentious incident occurred in the 19th over of SRH's first innings when a waist-high no-ball against Avesh Khan, bowled by Abdul Samad, was denied by the umpire. Initially, the on-field umpire had deemed it a no-ball, but the decision was reviewed and subsequently overturned at LSG's behest. This sparked a vehement reaction from the South African batter, Klaasen, who animatedly contested the decision.
While the players and officials were dealing with the fallout of the decision, some LSG members were seen pointing towards the crowd. The cause of this interaction remains unclear, but there are unconfirmed reports of fans hurling nuts and bolts at the LSG dugout. The match had to be paused briefly after the on-field umpire stepped in, and Andy Flower, presumably concerned, was seen discussing the matter with the umpire.
In an additional development, Amit Mishra of the Lucknow Super Giants was also reprimanded for a breach of the IPL's Code of Conduct. Mishra accepted the sanction for a Level 1 offence under Article 2.2, which pertains to the abuse of equipment during the match. The IPL statement clarified, "For Level 1 breaches of the Code of Conduct, the Match Referee's decision is final and binding." Despite the contentious circumstances, LSG managed to secure a seven-wicket victory against SRH in the match.