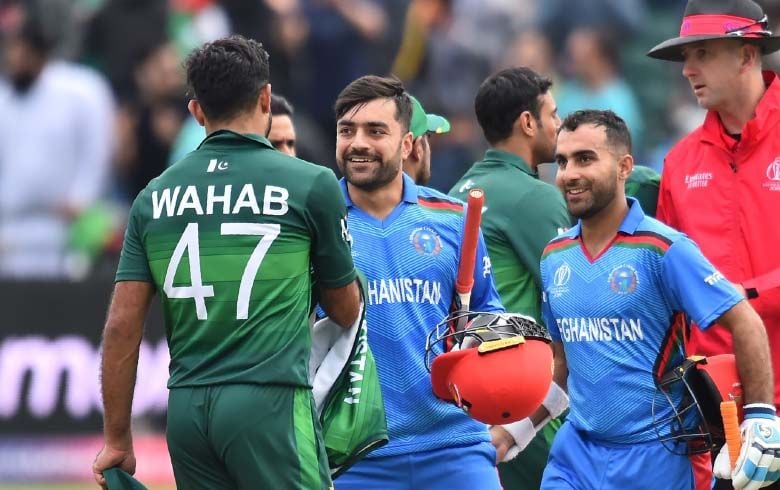 Afghanistan Cricket Board (ACB) has announced the schedule for the upcoming T20I series against Pakistan. The series will begin on March 24 and will be played in Sharjah, UAE. Second match is scheduled on March 26 while the third and final T20I will be played on March 27.
This will be the first time that Afghanistan and Pakistan will meet in a three-match T20I series, although they have played each other several times in Asian Cricket Council (ACC) and International Cricket Council (ICC) events in recent years.
Sharjah Cricket Stadium will host all three T20 Internationals. The two teams had previously played just one ODI and one T20I in Sharjah, both of which Pakistan won. Outside of this, the two neighboring countries have only met in multi-team events.
Joint Statement by ACB and PCB after revised schedule
Afghanistan and Pakistan have agreed to make slight changes to the itinerary of Afghanistan's home three-match T20I series against Pakistan, according to a joint statement by the Afghanistan Cricket Board and Pakistan Cricket Board. The series was originally scheduled to start on March 25, but it will now begin on March 24, with the last two games to be played on March 26 and 27 in Sharjah, UAE.
Also Read: Pakistan vs Afghanistan Schedule, Match Dates, Timing and Venues
The change in schedule was due to the unavailability of the Hawk-Eye Technology for the previously agreed upon dates. The two boards have agreed to make the changes in the itinerary to ensure that all necessary broadcast technologies are available for the inaugural T20I series between the two sides.
ACB Chairman Mirwais Ashraf has expressed his hopes for extending Afghanistan's ties with Pakistan through cricket. The two boards have come together to ensure that the inaugural T20I series between the two sides is a success, and fans of both teams will be eagerly anticipating the start of the series on March 24.
"We appreciate Pakistan Cricket Board's willingness to play Afghanistan in March. This is a significant accomplishment for two neighbouring countries," Mirwais Ashraf said in an official statement released by ACB.
Also See: PAK vs AFG Live Score Today
"We are hopeful and looking forward to extending our ties with PCB, as well as continuing great partnerships and frequent cricketing assignments with them, which will help us further strengthen our team and our cricket altogether. Overall, we are excited to host and play Pakistan in what will be a thrilling series of cricket games between the two countries," Mirwais Ashraf said.
"I am delighted that inaugural Pakistan versus Afghanistan T20I series will be played later this month in a city that has a large ex-pat community and which has always supported cricketers from both countries," Pakistan Cricket Board Chairman Najam Sethi said.
"The PCB and ACB enjoy a strong and cordial relationship that goes back to the 1990s. Even today, Afghanistan players are hugely popular in the PSL. I am sure when cricketers from both sides will wear national jerseys for the upcoming international series, they will demonstrate the highest levels of performances and entertain the passionate and cricket-loving crowds." he added.
Pakistan vs Afghanistan Complete Schedule, Dates, Timing and Venues
Mar 24, Fri
Pakistan vs Afghanistan, 1st T20I
10am EST | 2pm GMT | 6pm Local | 7pm PKT
Sharjah Cricket Stadium, Sharjah
Mar 26, Sat
Pakistan vs Afghanistan, 2nd T20I
10am EST | 2pm GMT | 6pm Local | 7pm PKT
Sharjah Cricket Stadium, Sharjah
Mar 27, Sun
Pakistan vs Afghanistan, 3rd T20I
10am EST | 2pm GMT | 6pm Local | 7pm PKT
Sharjah Cricket Stadium, Sharjah