In a display of unprecedented brilliance, Shubman Gill has been turning heads in IPL 2023 with orange cap, reaffirming his extraordinary talent with 851 runs so far and still counting. With an average of 60.79 and a strike rate of 156.43, the "Prince" of Indian cricket is proving to be a veritable tour de force in the world of cricket, not just in the IPL, but across all formats.
Gill is inching closer to breaking the IPL record of the most runs in a single season, currently held by none other than the batting maestro, Virat Kohli. Kohli's historic feat of 973 runs in IPL 2016, in a span of 16 matches, still stands unbeaten. The Royal Challengers Bangalore captain notched up these runs with an average of 81.08 and a strike rate of 152.03, including seven half-centuries and four centuries.
If his current form is any indication, Gill is on the fast track to shattering this record. With just 123 runs separating him from this monumental achievement, cricket enthusiasts across the world are waiting with bated breath to witness whether Gill will etch his name in the annals of IPL history.
His dominance extends beyond the confines of the IPL, as he has displayed exceptional performance in Tests, ODIs, and T20Is in the past six months. With a Test average of 51.3, ODI average of 78 and a strike rate of 117.5, and a T20I average of 40.4 with a strike rate of 165.5, Shubman Gill's prowess on the cricket field is indisputable.
Major records for Shubman Gill in IPL 2023
At the age of 23, Shubman Gill appears to have an irresistible predilection for breaking records. During Friday's IPL Qualifier 2 match against the Mumbai Indians (MI) at Ahmedabad, he stormed his way into record books, rewriting them with each masterful stroke of his bat.
Gill's awe-inspiring performance saw him marking up his third century of the ongoing IPL season. A sparkling 129 runs off a mere 60 balls – a scorecard that featured seven fours and an impressive 10 sixes – bolstered his record-breaking spree. With a strike rate soaring to 215.00, Gill was indeed the star of the match.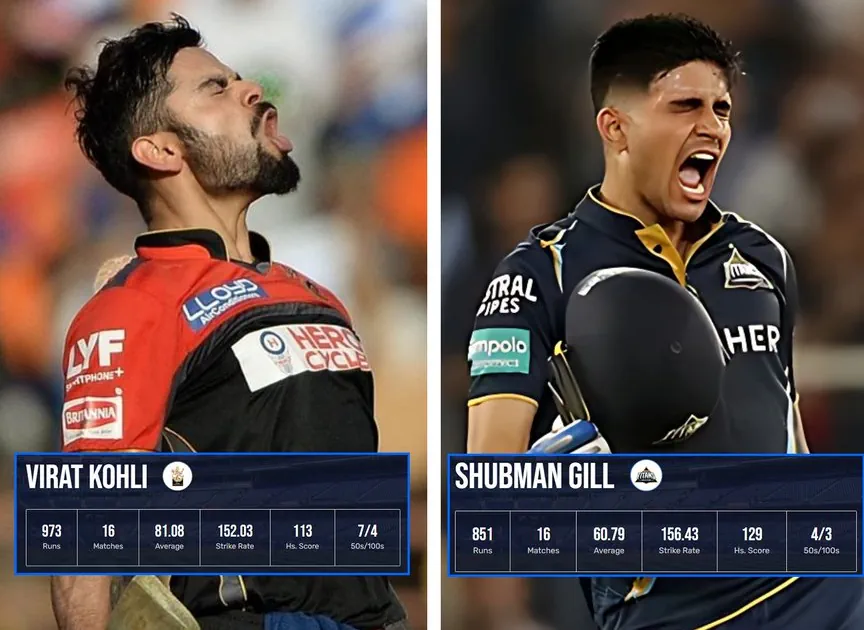 His hat trick of centuries this season has earned him the spot as the player with the second-most number of centuries in a single IPL season. Only Virat Kohli (4 in 2016) and Jos Buttler (4 in 2022) have managed to surpass this, solidifying Gill's standing among the pantheon of IPL greats.
Adding another feather to his cap, Gill became the seventh player to score an IPL hundred in the playoffs. Furthermore, at 23 years and 260 days old, he is the youngest to achieve this remarkable feat.
Gill's dazzling century not only placed him in the IPL history books but also equaled the record for the fastest century in an IPL playoff match. His 100 runs off just 49 balls mirrored the record set by his current opening partner Wriddhiman Saha, who achieved the same feat while playing for Punjab Kings in the IPL 2014 final against Kolkata Knight Riders.
This impressive century by Gill marks the 150th fifty-plus score in IPL 2023, making this the season with the most number of fifty-plus scores. This record was previously held by the IPL 2022 edition with 118 such scores. Gill's phenomenal record of three centuries in the IPL also stands as the most by any player aged 23 or less in the league's history.
Gill's astounding performance has earned him the coveted Orange Cap in IPL 2023. With 851 runs in 16 matches, an average of 60.78, three centuries, and four fifties, Gill's best score remains his recent innings of 129. His remarkable run tally boasts of a strike rate of 156.43.
With this, Gill now holds the third-highest run tally in a single IPL season and is potentially looking forward to the finals. He has leapfrogged over David Warner's 2016 season tally of 848 runs to slot himself in the top three. The current record is held by Virat Kohli with 973 runs in 2016 and Jos Buttler with 863 runs in 2022.
Furthermore, Gill holds the record for the highest score in an IPL playoff match, surpassing Virender Sehwag's 122 against Chennai Super Kings in the 2014 qualifier 2. His innings is also the second-highest by an Indian player in the IPL, falling just short of KL Rahul's 132* in the 2020 IPL against RCB. Chris Gayle holds the overall highest IPL score of 175*, a record he set in 2013 against Pune Warriors India.
In the playoff match, Gill hit 10 sixes, the most by any player in an IPL playoff inning, surpassing Saha's record of eight sixes against KKR in the IPL 2014 finals. With 33 sixes to his name in IPL 2023, Gill has the second-highest tally in the tournament, closely following RCB skipper Faf Du Plessis with 36.
Gill's boundary count for IPL 2023 stands at a staggering 111, with 78 fours and 33 sixes. This puts him at fourth place for the highest IPL boundary count in a season. The record is held by Jos Buttler with 128 boundaries in 2022, followed by Virat Kohli with 122 boundaries in 2016, and David Warner with 119 boundaries in the same year.
However, this remarkable boundary count secures Gill the second-best tally by an Indian player in an IPL season, second only to Virat Kohli's record of 122 boundaries in 2016.
Through his astounding performance in IPL 2023, Shubman Gill is not just re-writing record books, but he is redefining the very standards of excellence in the tournament. His phenomenal rise, filled with records and accolades, attests to his exceptional talent and relentless pursuit of greatness. Regardless of what lies ahead, Gill has already etched his name as one of the most exciting talents in the annals of IPL history.
Cricket fraternity in awe of Shubman Gill's explosive ton against MI
The world cricketing fraternity took to social media on Friday to express their awe for Indian batter Shubman Gill's century for Gujarat Titans (GT) in their Indian Premier League (IPL) Qualifier 2 match against Mumbai Indians (MI) at the Narendra Modi Stadium in Ahmedabad.
India's 2011 World Cup-winning all-rounder Yuvraj Singh also expressed his appreciation for Gill, calling him the "new prince of Indian cricket."
"Another great innings by the new prince of Indian cricket !! @ShubmanGill GTvsmi #IPL2O23," tweeted Yuvraj.
Rishabh Pant, who missed out on IPL 2023 after sustaining injuries in a car accident last year, also enjoyed Gill's knock.
"Class babaaa," said Pant's story caption on Instagram.
Former middle-order batter Suresh Raina also tweeted, "Another brilliant century by the young maestro @ShubmanGill! The future of Indian cricket shining bright. Keep rocking, champ! #MIvGT #IPL2023."
South African batting legend AB de Villiers also expressed his admiration for Gill's knock and was left speechless by the Punjab batter.
"SHUBMAN GILL! Wow. I don't really have words," tweeted de Villers.
"His ability to identify moments and accelerate, with consistency, puts him in a class of his own. Also keep in mind, most of his games have been at Ahmedabad, one of the bigger grounds around. Well played Shubman," added de Villiers in another tweet.
Former Indian opener Virender Sehwag also lauded Gil for his knock and his "amazing consistency and hunger."
"What a player. 3rd hundred in 4 matches and some breathtaking shots. Amazing consistency and hunger, the kind of stuff big players do, cash in on the purple patch #ShubhmanGill," tweeted Sehwag.
"This was probably my best innings so far in IPL," Shubman Gill
Gujarat Titans (GT) batter Shubman Gill labelled his knock of 129(60) as the best innings he has played in the Indian Premier League (IPL). "I think this was probably my best innings so far in the IPL," Gill said after the match.
"For me, it is playing ball to ball, over to over. The over where I hit three sixes gave me the momentum to go big. That's when I realised it could be my day. It was a good wicket to bat on as well. Not a conscious decision, you keep inventing as a batter but for me the belief is more important."
"I have worked on a few areas and made technical changes ahead of the NZ series after the T20I World Cup. Expectations are something that follow you outside the ropes, but once you step on the field it is all about trying how to contribute for the team," Gill added.
"I am coming off a good international season as well. Had a good season last time as well. When I start well, I feel confident I can score well. From the last WI tour, I think I have shifted a gear, I got injured before the last IPL but I have been working on my game," Gill said.
IPL 2023 Final Match
The 2023 IPL finalists are now confirmed and we will see Gujarat Titans taking on MS Dhoni's Chennai Super Kings on Sunday May 28 at Narendra Modi Stadium, Ahmedabad. Follow live IPL score starting 15 minutes before the match start.
Also See: Chennai Super Kings vs Gujarat Titans (CSK vs GT) IPL Final Match 2023