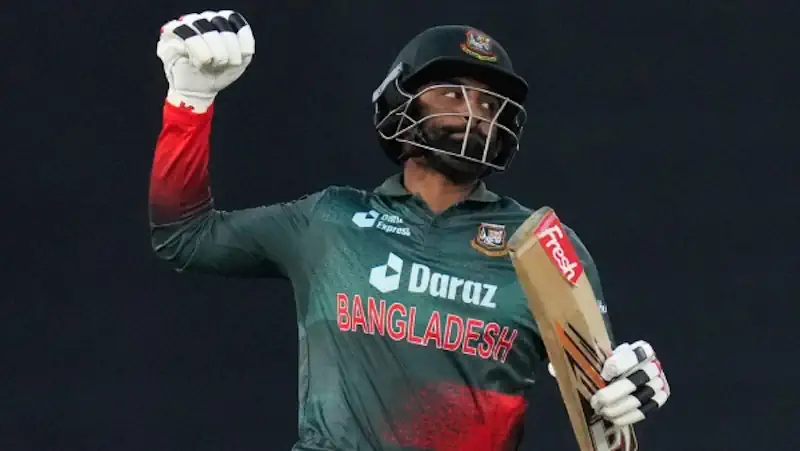 Bangladesh's cricket team has been hit with a major blow as their captain, Tamim Iqbal, has decided to retire from international cricket just months before the highly anticipated ICC Men's Cricket World Cup in India. The 34-year-old opener brought an end to his illustrious 16-year international career, leaving fans and teammates shocked and saddened.
The announcement came in the aftermath of Bangladesh's loss to Afghanistan in the first ODI of a three-match series. Tamim, visibly emotional, addressed the media in a press conference held in Chattogram, where he declared his retirement with immediate effect.
"This is the end for me. I have given my best. I have tried my best. I am retiring from international cricket from this moment," expressed Tamim, as he bid farewell to the sport that had been his passion for over a decade and a half. He took the opportunity to express his gratitude to his teammates, coaches, Bangladesh Cricket Board (BCB) officials, family, and everyone who had supported him throughout his journey.
Tamim specifically thanked the fans, acknowledging their unwavering love and support. He credited their faith in him as a constant inspiration to give his all for Bangladesh. With tears in his eyes, he requested their prayers for the next chapter of his life.
Having made his international debut in 2007, Tamim Iqbal leaves behind an impressive legacy. He represented Bangladesh in 70 Tests, 241 ODIs, and 78 T20Is, accumulating more than 15,000 runs across all formats. The left-handed opener scored 25 centuries and 94 half-centuries, establishing himself as one of the best openers to emerge from Bangladesh. His contributions to the team were invaluable, and his presence at the top of the order will be sorely missed.
It is worth noting that Tamim had previously retired from T20I cricket last year, and he played his final Test match against Ireland in April. However, his retirement from the 50-over format leaves a void in the team's leadership, as the Bangladesh Cricket Board is yet to name a successor for the upcoming World Cup.
The sudden nature of Tamim's decision has caught many by surprise, prompting speculation and concern within the cricket community. Bangladesh will now have to regroup and find a way to move forward without their experienced captain. As the World Cup approaches, the team will need to rally behind a new leader to maintain their focus and strive for success on the global stage.
Tamim Iqbal's retirement marks the end of an era for Bangladesh cricket. His remarkable career and contributions to the sport have left an indelible mark on the nation's cricketing history. As fans and fellow players come to terms with his departure, they can only reflect on the fond memories and exceptional performances he delivered over the years.
Tamim Iqbal's Retirement Leaves Fans Emotional and Twitter Abuzz
Tamim Iqbal's decision has sparked a nationwide reaction among fans, with one supporter even seen crying on the streets of Chattogram.
A video shared on Twitter by Bdcrictime, originally published by local TV Channel Jamnuna News, captured the emotional moment of a fan expressing their sadness over Tamim's retirement. The fan's tears highlighted the disbelief and disappointment felt by many, especially considering the timing just months before the ODI World Cup in India.
Twitter also buzzed with reactions to Tamim Iqbal's retirement. The announcement came a day after Bangladesh's defeat to Afghanistan in the first match of a three-ODI series in Chattogram. Tamim expressed his emotions during the press conference, stating, "This is the end for me. I have given my best. I have tried my best. I am retiring from international cricket from this moment."
The decision was not taken lightly, as Tamim revealed that he had considered various factors before making up his mind. The cricketer, holding back tears, confirmed that his last international game was against Afghanistan. While he did not elaborate on the reasons behind his retirement, he mentioned discussing the matter with his family and feeling that it was the right time to step away from international cricket.
Tamim had previously retired from T20Is, and now his departure from the ODI format leaves a vacancy in the captaincy. The Bangladesh Cricket Board is yet to announce his successor. Speculation suggests that all-rounder Shakib Al-Hasan, who currently leads the Test and T20 teams, is a strong contender for the captain's role in ODIs.