The Australia Cricket Schedule 2022 – 23 with time table & venues for all upcoming T20s, ODIs and Tests
Latest Australia Cricket Schedule 2022 and fixtures of all major & confirmed cricket series of Australia during 2019 to 2023 for all T20, ODI and Test matches. This year Australia will participate in multiple bilateral and ICC events. The Australia Cricket Schedule 2022 / 2023 here gives you details of dates, venues and match timings given in GMT, EST and Australia local time for your convenience, errors excepted:
Australia Series in 2022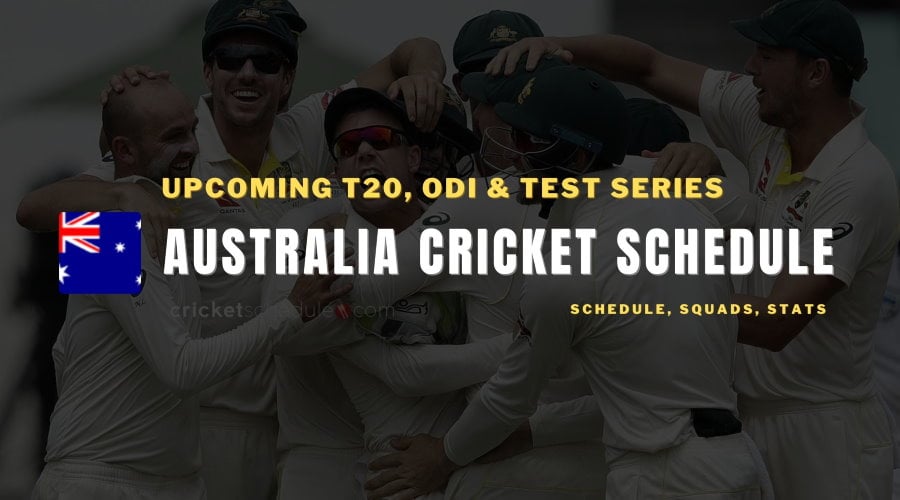 Here's the Australia Cricket Schedule with a list of confirmed ICC and domestic cricket series in year 2021 & 2022. Find dates and venues of upcoming tournaments (both home & away) along with fixtures of each match during the series here. Click on the series to see details of all T20, ODI & Test matches.
Australia Cricket Schedule 2022 – Current
Dec/Jan 2022
England tour of Australia 2022
5 Test Matches Australia
2020 – 2022
ICC World Cup Super League (CWC Qualifier)
ODI Matches Various
2022 Australia Cricket Schedule – Upcoming Series
Jan/Feb 2022
New Zealand tour of Australia 2022
3 ODIs and a T20 Match Australia
Feb 2022
Sri Lanka tour of Australia 2022
5 T20 Matches Australia
2023 Australia Upcoming Series
Australia players in T20 Leagues
Cricket Season for Australia in 2022 / 23
Australia has multiple bilateral and ICC events lined up ahead for the 2021 and 2022 season ahead. While the series against South Africa in February has been postponed till March, the team is on schedule for 5-match T20 series against New Zealand during Feb-Mar period. In October, Australia is scheduled to play a bilateral series against Bangladesh just before the T20 World Cup in India. The team will head to the mega ICC event, T20 World Cup, that is being held in India. The Ashes series between Australia and England will be 5-match Test series that begins in December.
Australia in ICC Events
Initially the T20 World Cup 2021 was scheduled to be played in Australia but it has been rescheduled with new dates during October and November in India. Now according to latest Australia cricket schedule, Australia is set to host the 2022 T20 World Cup in October and November.
Australia is also part of ICC World Test Championship (2019 – 2021) and the ICC World Super League (2020 – 2022) where team competes along other ICC teams in Test and ODI contests.
In 2023, Australia will participate in the 13th edition of ICC Cricket World Cup. This event is also being hosted by India during October and November period.
Australia ICC FTP Update
The new FTP is centred around a new Test Championship and a 13-team ODI league that will act as a qualification route for the 2023 World Cup. For Australia, among other things, it means two Test series against India across the next three summers, a Boxing Day Test for New Zealand and a one-off clash against Afghanistan in 2020.
FAQs – Australia 2022 – 23 Season
What are the main series in Australia cricket schedule this year?
While the Zimbabwe tour of Australia in August has been postponed, the team is scheduled for England tour in September / October. Other series include West Indies tour of Australia, India tour of Australia and New Zealand tour of Australia.
Is Australia scheduled for tour to any country?
Right now, the Australia is hopeful for England tour later in September / October. It will continue to host other teams after October 2020.
Will Australian players participate in IPL 2021?
Yes, India is hosting the IPL 2021 under bio-secure environment. The players will be playing both IPL and PSL under strict regulations sets by Cricket Australia, BCCI, PCB and ICC during the COVID-19 pandemic.
Learn more about Australia Cricket Team:
Australia Cricket Team Information on Wikipedia
Australia Schedule for T20 World Cup See full details
Follow your team fixtures on Cricketschedule.com
Cricket Australia Board official website www.cricket.com.au
Follow Australia Cricket Schedule updates on Twitter