Full coverage of ILT20 schedule 2024, the International League T20 Season 2 in 2024 with live scores, match dates, venues, schedule, fixtures and results. The ILT20 2024 is set to see 6 major teams in the 2nd season.
ILT20 Schedule 2024 Match Dates, Schedule, Teams, and Venues for International League T20
The ILT20 Schedule 2024 for International League T20 is here for all the 34 T20 matches that is set to begin this month in January 2024. The ILT20 2024 schedule begins on January 13 on Saturday and the final will be played on Sunday in second week of February 2023 at a venue to be confirmed later. There are total of 34 T20 matches that also include playoffs and the final match. These matches will be played between Abu Dhabi Knight Riders, Desert Vipers, Dubai Capitals, Gulf Giants, MI Emirates and Sharjah Warrior. Each team in ILT20 2024 schedule will play the other team twice this year.
See below for ILT20 schedule 2024 for each team this year. Each team plays the other team twice in the tournament. The final schedule has been finalized by the organizers now and you can find all the info on all venues, dates and time table here. Use the search below to filter ILT20 matches by venues, teams or timings. The ILT20 2024 Schedule times are given in GMT, IST, PKT and EST / Local Time for your convenience.
ILT20 2024 Match Fixtures (By Date)
| Date | Match | Time / Venue |
| --- | --- | --- |
| Jan 13, Fri | TBC vs TBC – 1st T20 | UAE |
| Feb 11, Sun | TBC vs TBC – Final T20 | UAE |
About International League T20 (ILT20 Schedule)
Established in 2021 and sanctioned by the Emirates Cricket Board, under the auspices of His Highness Sheikh Nahayan Mabarak Al Nahayan, Minister of Tolerance and Coexistence and Chairman Emirates Cricket Board, the International League T20, also known as the ILT20, is the UAE's professional-level Twenty20 Cricket League. The Inaugural edition of the ILT20 will take place in January and February 2023.
Having received multi-year ICC approval, the ILT20 celebrates International, Associate and UAE-based players, bringing together 84 International (including Associate) stars of the game and 24 UAE-based players to compete in a 34-match format across the UAE's exemplary, world-class Cricket facilities in Dubai, Abu Dhabi and Sharjah (UAE).
The inaugural year showcases six franchise teams, including Abu Dhabi Knight Riders (Kolkata Knight Riders), Desert Vipers (Lancer Capital), Dubai Capitals (GMR), Gulf Giants (Adani Sportsline), MI Emirates (Reliance Industries), and Sharjah Warriors (Capri Global), featuring star players such as Andre Russell, Moeen Ali, Wanindu Hasaranga, Trent Boult, Sam Billings, Kieron Pollard, Dwayne Bravo and many, many more.
At its heart, the ILT20 aims to develop and lift the profile of the Associate and UAE-based player, while offering an engaging, thrilling international-level T20 League for the enjoyment of Cricket fans world-wide. In support of this mandate, the League will implement exciting, fan-engaging cutting-edge technology-focused initiatives to bring the fan 'from the stands onto the pitch'.
Multi-year broadcast partner ZEE will telecast all League matches across their vast ZEE's linear channels as well on its digital platform, Zee5.
Franchise Teams
Abu Dhabi Knight Riders (Kolkata Knight Riders)
The Knight Riders Group, led by Shah Rukh Khan, along with Juhi Chawla and her business partner husband Jay Mehta, have secured the Abu Dhabi Knight Riders' franchise in the ILT20. The move sees the Knight Riders Group further spread their tentacles into franchise cricket as they expand the Knight Riders brand globally.
Desert Vipers (Lancer Capital)
In its first-ever foray into international cricket, Lancer Capital LLC, chaired by Avram Glazer, makes its historic debut into the sport by securing ILT20's Desert Vipers team. Lancer Capital has investments in a variety of best-in-class assets, where this partnership bolsters their vision of a long term investment strategy into the world of sports.
Dubai Capitals (GMR)
Indian-based infrastructure powerhouse, GMR Group, headed by Kiran Grandhi, signed ILT20's first franchise, stamping both the League and Dubai Capitals' intent on creating a dynamic and highly engaging addition to the international T20-cricket calendar. Dubai Capitals will integrate their group strategy to support sports from grass-roots through to international level while being effective in engaging with the community as well as the global cricket ecosystem.
Gulf Giants (Adani Sportsline)
In a landmark, exciting move, Adani Group's 'Adani Sportsline' – the sports-arm of the diversified Adani Group, overseen by Chairman and Founder Gautam Adani – have made their foray into international franchise cricket by joining forces with, and acquiring ILT20 team, the Gulf Giants. This will be the first major move overseas by Adani Sportsline where they aim to connect and engage with global fans from across the cricketing nations, while fostering global competitive opportunities for future champions.
MI Emirates (Reliance Industries Limited)
Mukesh D. Ambani led Reliance Industries Limited, (RIL) through its subsidiary Reliance Strategic Business Ventures, makes their first major overseas expansion by securing and launching MI Emirates. ILT20 will greatly benefit from the RIL's commercial and cricket know-how, promising a new and exciting brand of cricket bolstered by the best learnings, experiences, and entertainment.
Sharjah Warriors (Capri Global)
Capri Global, one of India's leading investment banking firms, diversifies its interests with a historic foray into franchise cricket by acquiring ILT20's Sharjah Warriors. With Rajesh Sharma, Managing Director and Founder at the helm, the signing marks a long-term entry into sports-franchising will allow Capri Global to leverage on the passion that both the Indian, and world-wide, audience has for cricket.
2023 Fixtures / Match Dates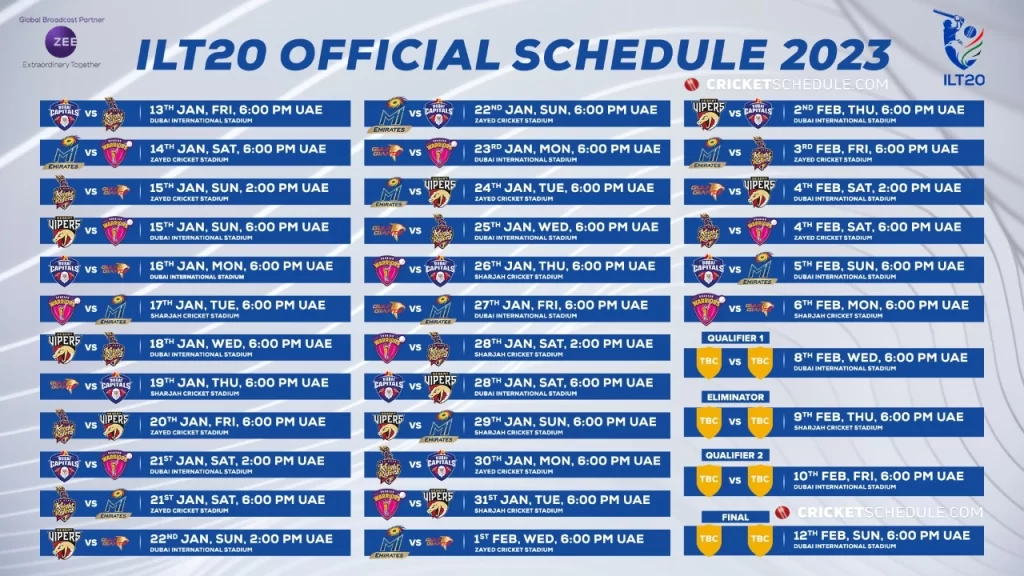 ILT20 Winners List
| Season | Winner | Runner-up | Result |
| --- | --- | --- | --- |
| 2024 | TBC | TBC | N/A |
| 2023 | Gulf Giants | Desert Vipers | Won by 7 Wkts |
ILT20 Schedule – FAQs:
When is ILT20 scheduled?
The ILT20 will start on Friday January 13 and will feature 34 matches including playoffs and finals in 2023. It is a 30-days long tournament with finals to be held during second week of February
How many teams will participate in ILT20 2024?
A total of 6 teams including Abu Dhabi Knight Riders, Desert Vipers, Dubai Capitals, Gulf Giants, MI Emirates and Sharjah Warrior will participate in ILT20 schedule 2024 this year.
When is the ILT20 final match scheduled?
The final match of ILT20 is scheduled on Sunday February 11, 2024 [Anticipated] at a venue to be finalized later.
Learn more about ILT20 League (ILT20 Schedule):
ILT20 schedule Information on Wikipedia
Which teams are participating in ILT20 2024, see blog
Follow your team fixtures on Cricketschedule.com
ILT20 schedule Official website for the tournament Visit site