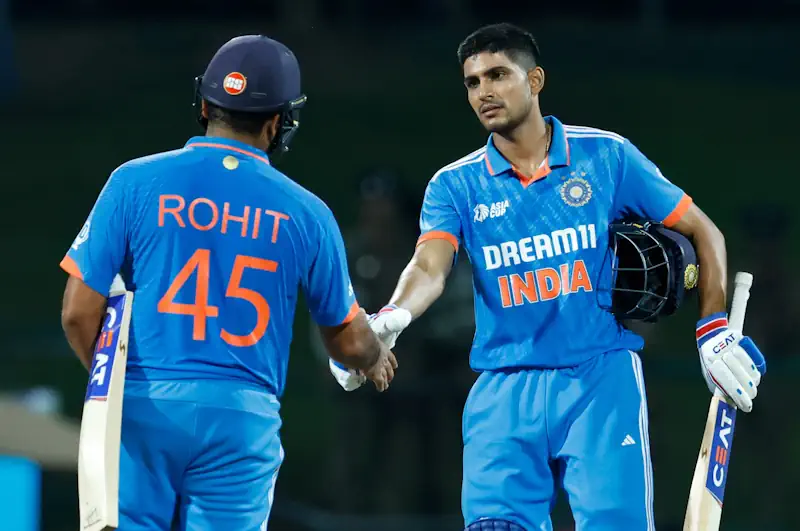 Shubman Gill and Rohit Sharma have guided India to a commanding 10-wicket win against Nepal via the DLS method, sealing a place in the Super 4 stage of the Asia Cup 2023. Facing a target of 145 runs from 23 overs after rain intervention, India displayed a masterful performance, with Shubman Gill and Rohit Sharma remaining unbeaten at the crease with a total of 131 runs.
Match Summary
Also See: Asia Cup Live Score
Earlier in the match, Nepal set a formidable target of 230 runs for India. The vibrant display of cricketing talents included Aasif Sheikh's half-century and solid contributions from Kushal Bhurtel and Sompal Kami. Despite their strong showing, India's bowlers, led by Ravindra Jadeja and Mohammed Siraj, displayed their mettle to limit Nepal's innings at 230 runs in 48.1 overs.
The contest witnessed Nepal showcasing immense promise and resilience, marking their debut in international cricket against India in the Asia Cup. Openers Kushal Bhurtel and Aasif Sheikh capitalized on dropped catches by India, forming a strong opening partnership that set the tone for Nepal's innings.
However, India's skillful bowling contingent gradually took control of the game. Jadeja and Siraj emerged as standout performers, with each claiming three wickets. Their disciplined efforts, supported by Shardul Thakur, Mohammed Shami, and Hardik Pandya, contributed to curtailing Nepal's innings.
India's successful chase in the rain-curtailed fixture showcased the prowess of Rohit Sharma, who orchestrated a remarkable performance by unfurling an array of shots against Nepal's bowlers. His half-century, accompanied by Shubman Gill's composed display, propelled India to a resounding victory that underscored their dominance in the contest.
With this victory, India solidified their place in the Super 4 stage of the Asia Cup 2023. The win, secured through a blend of skill and determination, paves the way for an exciting journey ahead in the tournament. India's next match is against arch-rivals Pakistan in the Super 4 stage on September 10.
Bowling okay, fielding sub-par: Rohit Sharma
Indian skipper Rohit Sharma expressed his assessment of the team's performance after a comprehensive ten-wicket victory over Nepal in the Asia Cup. Rohit acknowledged that while the bowling was acceptable, the fielding performance fell below par. He emphasized that the team did not display its best cricket during the two group-stage matches. Despite the win, Rohit highlighted the room for improvement and the need to step up as they move forward in the tournament's Super Four stage.
Could have been more disciplined: Indian batting coach Rathour
Indian batting coach Vikram Rathour expressed his assessment following India's comprehensive 10-wicket victory over Nepal in the Asia Cup clash. Rathour acknowledged Nepal's strong batting performance and highlighted that India could have exhibited greater discipline in both bowling and fielding. Despite the win, Rathour acknowledged the dropped catches that aided Nepal's efforts. He praised the team's response to the target and emphasized the positive aspects of their performance.
Regarding the upcoming clash against Pakistan in the Super 4 stage, Rathour stated the team's intention to improve and emphasized adaptability to varying situations and conditions. While acknowledging Pakistan's formidable pace bowling attack, including Shaheen Afridi, Haris Rauf, and Naseem Shah, Rathour affirmed that Indian batsmen possess the capability to counter them and initiate strong starts.
The dilemma of choosing between Ishan Kishan and KL Rahul as wicketkeeper-batters for the next match was addressed by Rathour. He described this as a positive predicament to have, given the form of both players, and noted that the team management would make the ultimate decision.
Rathour highlighted the strategic advantage of having diverse player combinations within the squad to adapt to different opponents and conditions. He discussed the options of strengthening the batting with Shardul Thakur or focusing on bowling with Mohammed Shami. He also mentioned the possibility of including an additional spinner like Axar Patel. Rathour emphasized the team's flexibility and the strategic value of these choices.
Brief Scores:
Nepal: 230 in 48.1 overs (Aasif Sheikh 58, Sompal Kami 48, Ravindra Jadeja 3/40)
India 147/0 (Rohit Sharma 74, Shubman Gill 67; Kushal Malla 0-11).