Australia Tour of India 2023
Women's Premier League WPL 2023
The WPL 2023 inaugural edition begins from March 4 with the final set for Sunday March 26, 203. A total of five teams including Delhi Capitals, Gujarat Giants, Mumbai Indians, Royal Challengers Bangalore, and UP Warriorz will play a total of 22 matches that include one semi final and one final match.
Indian Premier League IPL 2023
The IPL 2023 is slated to begin in March last week with the finals set for May end. Total of 10 teams will play 74 matches during Mar-May period across various venues in India. ICC has special window open during the Indian Premier League during 2-3 months where all major players participate in the 74-matches long tournament.
Pakistan Super League PSL 2023
Cricket Schedule 2023 for Upcoming T20, ODI & Test Series, Fixtures, Match Dates & Time Table
Complete Cricket Schedule for upcoming matches and series in 2023. The fixtures list of all major & confirmed cricket series for T20, ODI and Test cricket matches with time table and venues details. We have the most comprehensive coverage for Cricket in terms of fixtures and statistics. Subscribe to daily cricket schedule alerts for daily updates about your favorite team.
Current & Upcoming Series
2023 Cricket Schedule Today
The following schedule is of confirmed ICC Cricket Calendar and Future Tour Programme (FTP) which features a comprehensive year-by-year cricket fixtures for each cricket playing country.
These countries include India, Pakistan, Afghanistan, Bangladesh, Hong Kong, Ireland, Netherlands, Oman, Scotland, Zimbabwe, Australia, England, New Zealand, Sri Lanka, South Africa and West Indies with complete cricket time table and details like dates, timing (in IST, PKT, GMT, EST etc) and venues.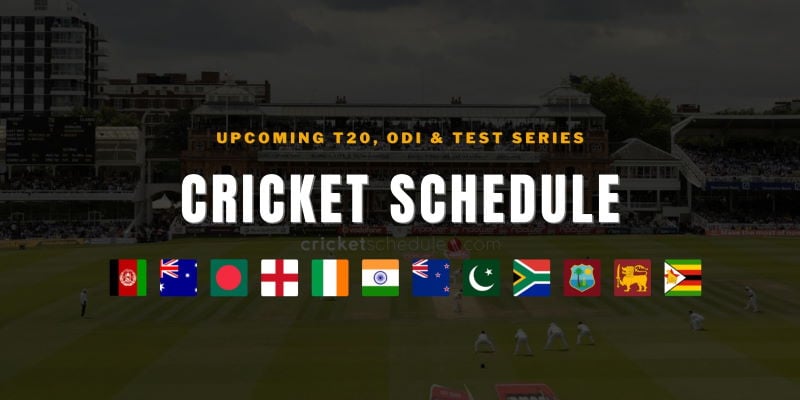 In general, all international cricket teams have a schedule of upcoming matches that are planned in advance, including test matches, one-day internationals, and Twenty20 matches.
These matches can take place between teams from different countries or between teams from different regions within a country.
Domestic cricket, on the other hand, typically has a schedule of matches that take place within a country and involve teams from different regions or states within the country.
Get latest cricket schedule of ODI series, Test series and major T20 tournaments like IPL, PSL, Big Bash League, SLPL and other Twenty20 leagues with complete and up-to-date fixtures on CricketSchedule.com, largest Cricket Schedule website for cricket fans.
Series Schedule by Country
India Cricket Schedule 2023 – 2024 for all matches and tournaments
The cricket calendar for India in 2023 is packed with several exciting tournaments and matches. In January, India will face off against Sri Lanka followed by a series against New Zealand. However, the highlight of the first half of the year will be the much-awaited series against Australia in Jan/Feb.
In March-May period, the Indian Premier League 2023 will take place. In July, India will take on West Indies, followed by a match against Ireland in August.
In Aug/Sept, the Asia Cup 2023 will be held, and finally, the biggest event of the year, the Cricket World Cup 2023, will take place in India in October.
Overall, it's going to be an action-packed year for cricket fans in India.
Visit India Cricket Schedule 2023 page for details about India upcoming matches, series and T20 leagues.
Pakistan Cricket Schedule 2023 – 2024 for Major Tournaments
The cricket calendar for Pakistan in 2023 promises to be an exciting one, starting with the New Zealand tour of Pakistan in Dec/Jan. The tournament will be followed by the Pakistan Super League in Jan/Feb, followed by the Pakistan Cup in March.
In April, New Zealand will tour Pakistan again. In July, Pakistan will tour Sri Lanka, followed by Afghanistan's tour of Pakistan in August. The much-awaited Asia Cup will be held in Aug/Sep, and finally, the year will end with the Cricket World Cup 2023 in Oct/Nov.
With a mix of domestic and international tournaments, Pakistani cricket fans have a lot to look forward to in 2023.
Visit Pakistan Cricket Schedule 2023 page for details about India upcoming matches, series and T20 leagues.
International vs Domestic Cricket Schedule
The team at Cricket schedule takes pride in providing both domestic cricket schedule as well as international cricket schedule for all major teams.
International cricket refers to cricket matches that are played between national teams from different countries. These matches can take place in various formats such as Test matches, One Day Internationals (ODIs), and Twenty20 Internationals (T20Is).
Test matches are the longest format of cricket and are played over five days, while ODIs are limited-overs matches and T20Is are the shortest format, which are played over 20 overs.
Domestic cricket, on the other hand, refers to cricket matches that are played within a country, usually involving teams from different regions or states. These matches are typically played in a league format, with teams competing against each other to win the league or tournament.
Domestic cricket can also include matches between teams representing different cities or regions within a country.
In general, International Cricket is considered more competitive and important as compared to domestic cricket as it serves as a platform for players to showcase their talent to the world, and it also helps to promote the game globally.
Major ICC Events Schedule in 2023 – 24 🏆
The 2023 cricket schedule includes few major ICC events scheduled between cricket playing nations. While not ICC events, PSL and IPL are also listed where players from all cricket teams participate in these events and ICC has special window for these events. As per ICC FTP Schedule, this year tournaments include Cricket World Cup Super League, ICC Cricket World Cup and Asia Cup.
Starting from the 2023 Cricket World Cup Super League, the cricket season is jam-packed with major ICC cricket events. We have confirmed cricket schedule for ICC Cricket World Cup, Asia Cup and special windows for the Indian Premier League and Pakistan Super Leagues. Players from all major cricket playing nations participate in these two lucrative T20 leagues starting from January till June.
What's included in Cricket Schedule this year?
Cricket matches are played around the world, and the schedule for these matches will vary depending on the time zone in which the match is taking place. For example, a match taking place in India will have a different schedule than a match taking place in Australia.
International cricket matches usually take place at fixed times to ensure that the games are broadcasted at convenient times for the most number of viewers around the world.
For example, Test matches usually starts at 10:00 am local time and One Day Internationals and Twenty20 International matches usually starts at 09:00 am and 02:00 pm respectively. These times are adjusted for the time zone of the host country.
A cricket schedule typically includes a list of upcoming matches that have been planned in advance. The schedule will usually include the following information:
The names of the teams that will be playing against each other.
The format of the match, such as Test match, One Day International (ODI), or Twenty20 International (T20I).
The date and time at which the match will begin.
The location or venue where the match will be played.
If the match is part of a larger series or tournament, the name of the series or tournament will be included in the schedule.
Additionally, some schedules may also include information on the broadcasters and streaming platforms where the match will be live-telecasted and the schedule of pre-match and post-match shows.
ICC FTP Cricket Schedule
The International Cricket Council (ICC) Future Tours Programme (FTP) is a schedule of international cricket matches that have been planned in advance.
The ICC FTP schedule is a long-term schedule that outlines the matches that will be played by each national team over a period of several years.
The schedule includes a variety of match formats, including Test matches, One Day Internationals (ODIs), and Twenty20 Internationals (T20Is).
The FTP schedule is designed to ensure that each team plays a fair and balanced schedule of matches against other teams, and it also helps to ensure that cricket is played in different parts of the world.
The schedule is reviewed and updated regularly by the ICC to take into account changes in the cricket calendar, such as the addition of new teams or the introduction of new formats of the game.
Cricket Schedule for Major Teams
Cricket schedule alerts at Cricketschedule.com is a one-stop destination for all cricket fixtures and schedule related queries around the world.
Whether you are looking for Indian cricket schedule, England cricket fixtures, Pakistan cricket schedule, Australia, Bangladesh, Sri Lanka, South Africa or any other team, you can find all details here at one place.
Schedule for upcoming series and matches including complete itinerary of teams, series venues, match dates and timing in multiple time zones including GMT, EST, IST, PKT etc.
Asia Cup Cricket Schedule 2023
The 2023 edition of Asia Cup will be played during August-September months this year. It will be played in ODI format based on ICC event of the year which is ICC Cricket World Cup. It will be hosted by Pakistan with matches to be played on neutral venues like UAE, Sri Lanka or Bangladesh. A total of six teams will participate in the 2023 edition of Asia Cup.